Teddy Kahunde aged 37 is a resident of Kyansimbi village in Kabarole District (Mid-Western Uganda). She is a grade 3 teacher by profession and the Director of New Hope Primary School.
She always nursed a dream of getting a government job before joining the SACCO, but that dream never came to pass.
I completed studies in 2009 and sat home for so long without a job in a government aided school, since in my home area private schools are very few and expensive. I noted that many children walk for over a kilometer to get education". One day as

"I was somewhere in a church congregation praying, when I got a vision of starting up a school in my home area. In 2013, I got a piece of land curved out of my family land and constructed a makeshift(temporary) building to start teaching. I started with 7 pupils, but the number kept on increasing within the following months.
She noted that as the number grew, the space was not enough for the children to play freely. She looked for another place and started renting a house at Ug. Shs. 50,000 a month – it had enough space for 4 classes. She started with 2 teachers, 1 support stuff and herself. Within the first few months, she started providing extra/remedial classes some children from the middle class section of the community. She would raise on average Ug. Shs. 60,000 a week. This money she would immediately save with Kijura SACCO.
"I got to know about the SACCO through some people in the market. I went there to know more about it and I immediately joined in 2010 and used to save different monies since I did not have a job, but could have save Ug. Shs. 10,000 or 5000 on my account depending on the season".
In 2014, Kahangi Catholic Church in her village called for people who could utilize some church land to benefit the community and she applied for it to construct the school. She was given the tender to construct a school on the church land.
"In August 2014, I went to my SACCO for a loan of Ug. Shs. 2million at an Interest Rate of 3% reducing balance, with a loan term of 16 months. I bought iron sheets, nails, wood among others for the start and we constructed 5 rooms out of wood and 2 rooms with bud and wattle. This brought the total to 6 classes and 1 office/staffroom.
She got Ug. Shs 3million from her accumulated savings, which the church tooped up with an equal amount to construct a modern latrine and kitchen facilities for the school. As a benefit to the church – it also uses the facilities at no additional cost. The school now has 7 teachers
254 pupils who pay fees ranging from Ug. Shs. 20,000 to 50,000. The learners are aged 7 to 16 years and they are currently moving a distance of less than a kilometer to access the school.
She went on to say,
"I run the current school population with the knowledge I got from my SACCO trainings mostly financial management and business skills, which have helped me manage the school with ease and I have received an increase in the learners.

The trainings were offered by some people from the Ministry of Finance in Kampala called PROFIRA and the SACCO staff."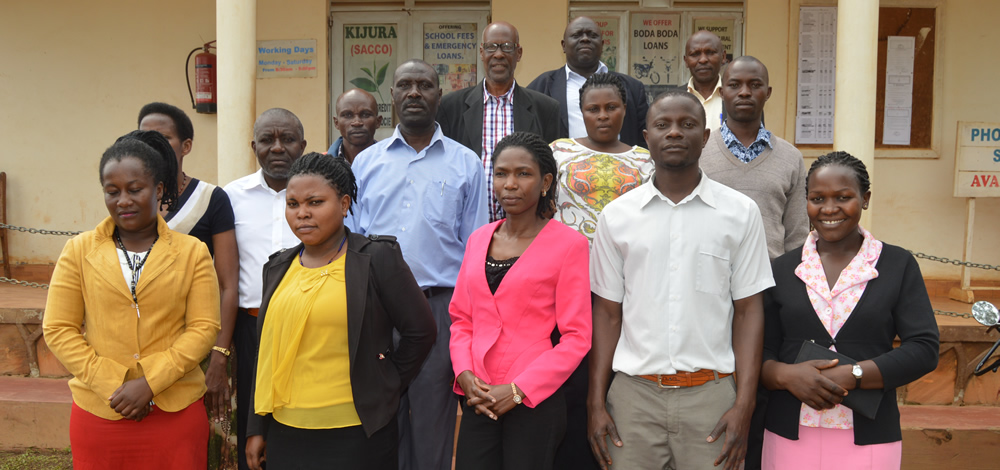 Kijura SACCO Staff, Board and some SACCO members. Teddy can be seem on the extreme right of the first row.