Swaibu Magumba a member of Bugadde SACCO in Mayuge District (Eastern Uganda) Swaibu joined BugaddeSACCO in February 2012, and started saving Ug. Shs 20,000 per week.
His savings accumulated to Ug. Shs. 360,000 within 6months. With the good saving pattern and having ventured into agriculture, the SACCO selected him to go for 'Harvest money expo at Namboole Stadium' a show that is held nationally every year. He learnt a lot of things to do with farming, coupled with knowledge from the SACCO education programs on enterprise selection, he put emphasis on growing passion fruits.
In March 2015, he got a loan of Ug. Shs. 1million at an Interest Rate of 2.5% per month to be paid in six months, but with 4 months grace period. I used it start growing passion fruits on 3 acres of land.
Swaibu says his first harvest of the passion fruits in 2016 earned him Ug. Shs. 8million, which he used to buy a tricycle at Ug. Shs 6.5million. He now uses the tricycle to transport the fruits from the garden to the market at Mayuge Town, and neighboring markets during harvest times.
"I also used Ug. Shs. 1million to start up chicken rearing and right now, I have 357 layer birds whose eggs have made my first born son graduate in Automobile and Driving from Jinja Vocational institute"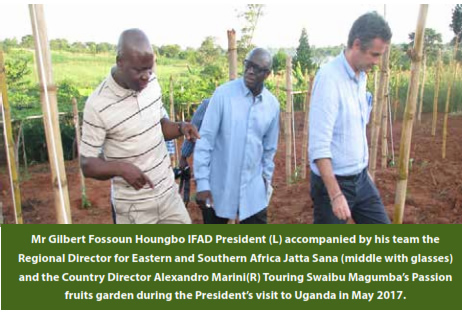 Swaibu who was also visited by the IFAD president during his visit to Uganda last year, has very kind words for the Bugadde SACCO especially on how it has enabled him to improve the financial status at home. He says compared to the past when he had no daily income, he now earns between Ug. Shs. 50,000 – 100,000 on a good day from passion fruits, eggs and water melons.